What is Half-Pint?
Half-Pint Prairie is a Green Fund project to establish a pocket Blackland Prairie on campus next to the Student Services Building.
Blackland Prairies
Blackland Prairie once spanned much of East-Central Texas from North of San Antonio through Austin to the Red River. However, due to unsustainable development, less than 0.01% of the original prairie remains—making it the most endangered ecoregion in North America. Prairies like those found in Texas' Blackland are wells of biodiversity. One square meter of prairie has been found to have 89 different species of plants in it! Additionally, the native plants' deep roots store carbon, prevent erosion, and enrich the soil. While prairies are on the decline, they can and should play an important role in the solution to the climate crisis.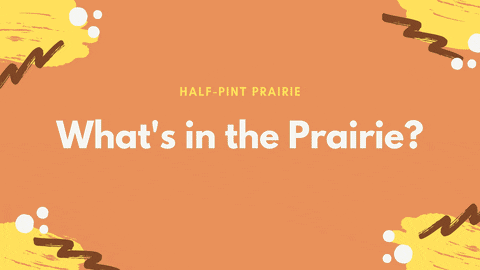 Built Environments
Cities are built environments in which many variables are determined by humans. The livability of these cities is determined by the way these cities are designed. Where are the homes located? What else are they near? Who has access to green spaces? Are we doing our best to cultivate human interaction? Half-Pint seeks to explore these questions of spatial justice and present sustainable solutions.
Who We Are
The Half-Pint team demonstrates the efficacy of small-scale environmental action and champion institutional changes like increased usage of native plants in the campus landscape. Half-Pint addresses the urgent need to save disappearing ecosystems like Blackland Prairies and to think critically about how we can create equitable and just communities. We are a team of students led by Jack Rouse and Mark DeGraff (more about us here). We embrace multidisciplinary solutions to questions of environmental justice that incorporate our understanding of ecology and the importance of the built environment.
Resources
More about Prairies
More about Half-Pint
Environmental Justice
Contact us
Want to collaborate or just learn more? Send an email to halfpintprairie@utenvironment.org.
Special thanks to