What is Half-Pint?
Half-Pint is a student led project to establish a model Blackland Prairie on campus. You can find the prairie west of the Student Services Building.
Blackland Prairie is an ecoregion found only in Texas that is named for its rich, dark soil. Unfortunately, due to its desirability for agriculture, much of it has been converted to farmland. Less than 1% of of the original Blackland Prairie remains. Our hope is that this project can draw attention to the loss of Blackland Prairie, educate about the ecosystem services provided by prairies, and use the prairie to discuss other ecological crises.
A breathtaking transformation! All in the short span of a few months.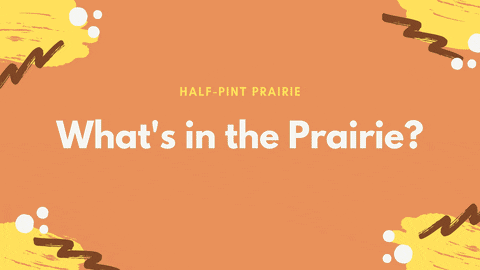 Why a prairie?

Austin's location is unique because it's an ecotone. In the west we find Edwards Plateau and to the east, our very own blackland prairie. This makes Austin prime real estate for endemic and endangered species. Blackland prairies also provide a number of ecosystem services such as mitigation of the heat island effect, cleaning air, food and habitat for pollinators, prevention of soil erosion and compaction, water filtration, and biological richness. Check out the resources section for a paper about the benefits of green spaces on college campuses.
Meet the team
Hi! I'm Jack. I see prairies as an important piece of anthropological history. Even though we lost the tall grass prairies that tickled the bellies of buffalo long ago, we can still learn a lot from the beautiful Blackland prairie. By establishing a prairie on campus, I hope that we can instill an appreciation of nature for its cultural as well as ecological importance.
Hello! I'm Mark and I'm a freshman environmental science major. My interest in sustainability stems from my belief that access to fresh food and wide open spaces is an essential part of a happy life. I am excited to watch the Half-Pint project grow and to start a conversation about the current state of prairies in Texas. On weekends, you can find me bouldering, hiking the Greenbelt, or biking to farmers' markets around Austin.
Half-Pint in the news
Students plant prairie, make campus more sustainable – Daily Texan
Breaking Ground on Blackland Prairie – Office of Sustainability
Contact us
Want to collaborate or just learn more? Send us an email at halfpintprairie@utenvironment.org.
Special thanks to